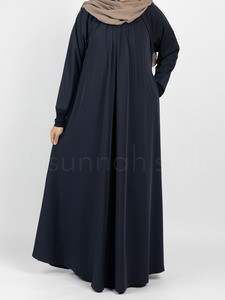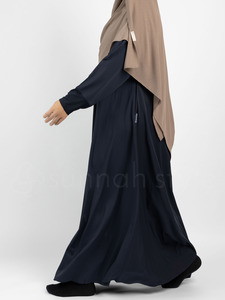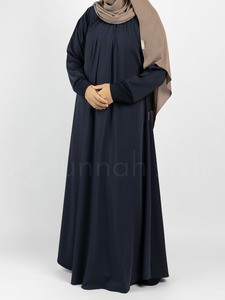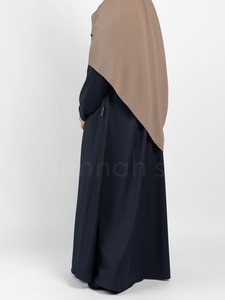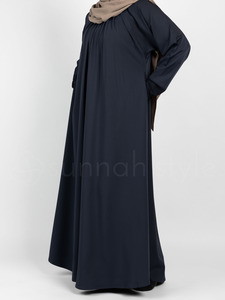 Simplicity Umbrella Abaya (Navy Blue)
Our Simplicity Umbrella Abaya is designed with a stunning princess cut for a modest and flowing fit. The abaya features a pleated neck with a diagonal zipper from the shoulder to the underarm to accommodate nursing mothers. It also includes zippered side pockets for conveniently storing your phone, keys and other necessities. 
Our Simplicity Umbrella Abaya is made of our premium Grand crepe which is excellent quality, medium weight, and suitable for all seasons. The fabric has a smooth and slightly silky feel to it, allowing it to drape beautifully and making it perfect for everyday wear or special occasions.

The model in our images is 5'5" tall (165cm) and is wearing a size 56 in our Simplicity Umbrella Abaya
Our Simplicity Umbrella Abaya is pictured in our images worn with our Brushed Shayla (sold separately)
The bottom width of the coloured model (made in Grand Crepe) is slightly narrower than our black Simplicity Umbrella Abaya due to the smaller fabric width of Grand Crepe
Style

Umbrella

Closure

Closed front with diagonal zipper from neck to underarm

Sleeve Style

Tapered sleeves with stretch cuff

Fabric Type

Grand Crepe

Fabric Texture

Premium quality crepe with a smooth and slightly silky feel

Fabric Weight

Medium Weight

Fabric Content

Polyester

Recommended For

Everyday Wear
Special Occasions

Features

Nursing Friendly
Pockets
Stretch Cuffs

Collection

Sapphire Collection